In a list first reported by NBC News, the Democratic Congressional Campaign Committee laid out the House districts it's aiming to flip next year.
Democrats have targeted 31 Republican-held districts in their fight to retake control of the House in 2024, laying out an aggressive map and signaling early plans to go on offense.
The list, first reported by NBC News, is a blend of ultra-competitive districts in places like New York's Hudson Valley and Long Island, including the seat held by Rep. George Santos; areas President Joe Biden won, like the Omaha-core seat held by Rep. Don Bacon; and conservative-leaning districts where the party sees an extreme and vulnerable GOP incumbent, such as Rep. Lauren Boebert in Colorado.
Democratic Congressional Campaign Committee executive director Julie Merz said in an interview that the party's strategy is to present Biden and the Democrats as "team normal" against a chaotic band of "MAGA extremists" they say have taken over the House Republican conference.
They will contrast Biden's legislative wins — mainly the $35 monthly insulin cost cap and lower drug prices for Medicare, manufacturing and new infrastructure projects — with a Republican majority Merz says is "all hat and no cattle" when it comes to delivering results.
"There are no more Republican moderates. They had an opportunity very early in the speaker's vote to stand up to the most vocal MAGA extremists and say, 'This isn't OK. This isn't the direction we want our caucus to go.' And they folded," Merz said.
The list of 31 districts, along with two open seats, is paired with a separate list of "front-line" members in competitive districts that Democrats must defend against Republican hopes of capturing those seats.
A suburban realignment and redistricting have made the battle for the House majority extremely competitive. In 2020, Democrats won a four-seat majority. Two years later, Republicans won an identical majority.
Now the map has narrowed, and the DCCC's list of 33 seats represents the outer limits of what the party can achieve. It's not yet clear how heavily Democrats will spend in each of the districts — in crunch time, they'll have to make tough decisions.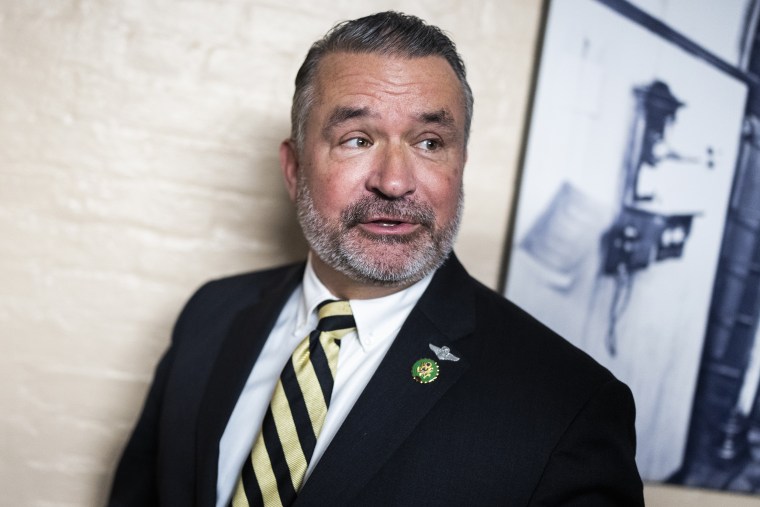 And the race for the House majority is full of unpredictable factors.
A big one is who the Republican presidential nominee will be. The current front-runner is former President Donald Trump, who was indicted by a Manhattan grand jury Thursday. Another is the condition of the economy in fall 2024. As the incumbent, Biden and his entire party could reap the benefits of a boom cycle or pay a price in a downturn or if wages fail to keep pace with inflation.
"If House Republicans want to spend their time in battleground districts defending their nominee's criminal behavior on top of their own failure to govern and deliver anything remotely helpful for working families, that's up to them," Merz said.
The targeted districts include eight seats in California and six in New York. Merz said the majority could run through those blue states, arguing that Democratic "turnout challenges" in both states cost them seats in 2022, while a mix of "presidential year turnout" and "strong candidates" could turn their fortunes in 2024.
National Republican Congressional Committee communications director Jack Pandol said, "Extreme House Democrats lost the majority because they hammered families with crime, chaos and skyrocketing costs. Why would voters change their minds after Democrats spent their time in the minority coddling violent criminals and opposing relief?"
The two open seats on the Democrats list are being vacated by Reps. Katie Porter of California and Elissa Slotkin of Michigan, who are both running for the Senate. Republicans have targeted those seats as House pickups.
Merz said she's not worried. "We have good benches in those districts," she said. "And we're already having a number of recruitment conversations."
Democratic Congressional Campaign Committee Chair Suzan DelBene of Washington will have to balance offensive moves with defending swing and red-leaning districts that Republicans consider ripe for the picking in 2024. In 2020, the campaign arm of House Democrats went hard on offense and took for granted a series of districts that they narrowly lost, contributing to their small majority.
Another tough decision for the DCCC, and a source of contention with progressive advocates in recent years, will be whether to meddle in primaries or let them play out. Merz didn't close the door on getting involved in some races, but she said it's not the congressional committee's aim.
"We never want to get involved in primaries," she said. "There are scenarios like top-twos in California and Washington, where we have to ensure that there is a Democratic nominee and we aren't locked out. But I think we are optimistic that primaries by and large are a healthy thing. We can let a lot of them play out and we want the people on the ground in these districts making these decisions."
The other GOP-held seats on the committee's list are held by:
Rep. Dave Schweikert of Arizona
Rep. Juan Ciscomani of Arizona
Rep. Kevin Kiley of California
Rep. John Duarte of California
Rep. David Valadao of California
Rep. Mike Garcia of California
Rep. Young Kim of California
Rep. Ken Calvert of California
Rep. Michelle Steel of California
Rep. Anna Paulina Luna of Florida
Rep. Maria Salazar of Florida
Rep. Mariannette Miller-Meeks of Iowa
Rep. Zachary Nunn of Iowa
Rep. John James of Michigan
Rep. Ryan Zinke of Montana
Rep. Thomas Kean of New Jersey
Rep. Nick LaLota of New York
Rep. Anthony D'Esposito of New York
Rep. Michael Lawler of New York
Rep. Marcus Molinaro of New York
Rep. Brandon Williams of New York
Rep. Lori Chavez-DeRemer of Oregon
Rep. Brian Fitzpatrick of Pennsylvania
Rep. Scott Perry of Pennsylvania
Rep. Monica De La Cruz of Texas
Rep. Jennifer Kiggans of Virginia
Rep. Bryan Steil of Wisconsin
Rep. Derrick Van Orden of Wisconsin
Source: Democrats target 31 GOP-held seats in aggressive campaign for House majority (nbcnews.com)