So, George Santos told the Judge that is hearing his case for unsealing his bail sponsors, that he'd rather go to jail than reveal who they were. Well, if this were any other ordinary fraudster, he'd be sent packing for his orange jumpsuit. Many have speculated that Steve Bannon, through his jailed partner Guo Wengui, were two of the sponsors that signed up to be responsible for Santos if he jumped bail. They each allegedly pledged collateral for the 500k bail. Lately, Santos has been seen at Guo Wengui sponsored events, and has made claims that he's in trouble with the law because of his interest in Guo Wengui, as well as in the company of Steve Bannon. Santos had never been involved with either of them, so it makes sense that his bail was made by these two or arranged by these two, and then he had to show up to every event they sponsored.
Guo Wengui remains in jail facing facing fraud charges. But an org he launched with Bannon, the New Federal State of China, today celebrates its 3rd anniversary at a mansion in Mahwah, NJ. Scheduled speakers include Reps Paul Gosar, Andy Ogles and of course, George Santos. pic.twitter.com/1XTcdky0Nj

— Dan Friedman (@dfriedman33) June 4, 2023
Story below:
Indicted Rep. George Santos' attorney has filed a letter asking the judge overseeing the New York Republican's case to keep the names of the people who put up his $500,000 bond sealed.
Attorney Joseph Murray objected to a motion by news organizations, including CNN, for the judge to make public the names of the cosigners following Santos' indictment on campaign finance and fraud charges in New York in early May. If their names are released, the attorney said, they "are likely to suffer great distress, may lose their jobs, and God forbid, may suffer physical injury."
In the letter, Murray wrote that "there is little doubt that the suretors will suffer some unnecessary form of retaliation if their identities and employment are revealed" and claimed that Santos "would rather surrender to pre trial detainment than subject these suretors to what will inevitably come" if their names are made public.
Murray also blamed CNN – which first reported that Santos had been charged by the Department of Justice – for the media being present at the congressman's arraignment, saying it caused a "frenzy" which he claimed led to one of the suretors backing out.
"Unfortunately, on May 9, 2023, shortly after the defense was notified of the indictment and arrest warrant, this information was apparently leaked to the Cable News Network ('CNN'), resulting in an immediate media frenzy. Also, at this time, defense counsel had been in the process of engaging our suretors and presenting their documentation and contact information to the government, in preparation for the arraignment on May 10, 2023," the filing states. "As the media frenzy progressively got worse our suretors tors [sic] grew very fearful and concerned. As of the morning of May 10, 2023, we only had two confirmed suretors, while our third suretor had a change of heart and backed out."
Last month, Santos pleaded not guilty to 13 federal charges: seven counts of wire fraud, three counts of money laundering, one count of theft of public funds, and two counts of making materially false statements to the House of Representatives.
Santos was released on a $500,000 bond, but was ordered to surrender his passport and will need permission to travel outside of Washington, DC, New York City and Long Island.
After his arraignment, Santos told reporters that he has been "compliant throughout this entire process" but blasted the indictment as a "witch hunt" and said he will "fight my battle."
The freshman congressman, whose astonishing pattern of lies and fabrications stunned even hardened politicos and led top Democrats and some New York Republicans to call for his resignation earlier this year, has said he will not resign from his seat and that he plans to seek reelection next year.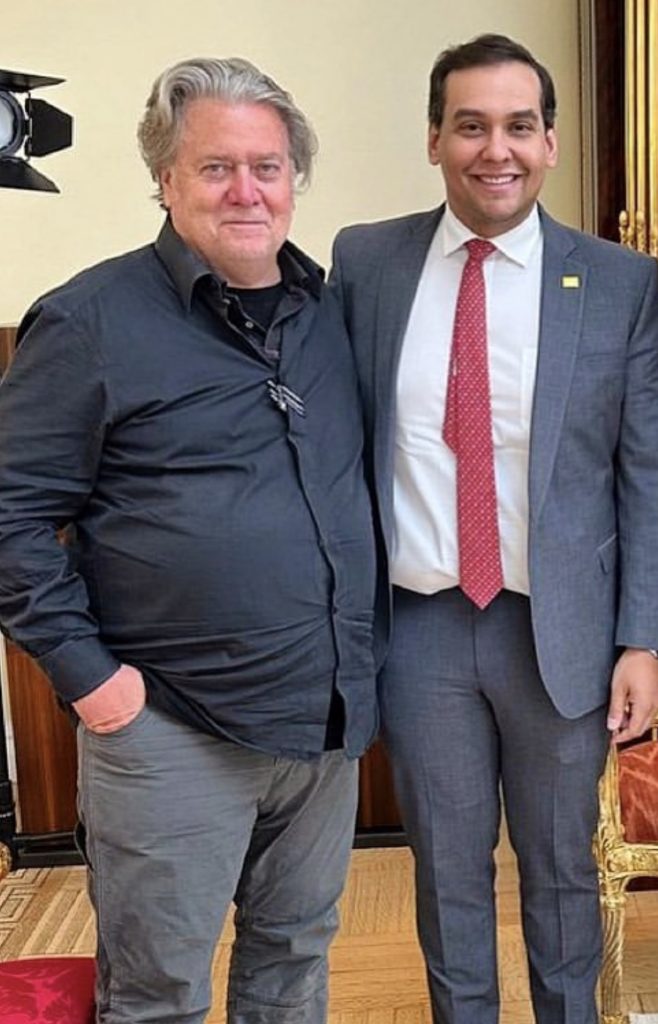 Source: Rep. George Santos' lawyer asks to keep bond cosigners' names sealed | CNN Politics