Tatted up while trying to hide all his gang tats, former Oath Keeper Jason Van Tatenhove, testified today at the J6 Committee hearing that he's worried that if Trump were to run again he might just as well start a civil war based on lies and deceit to steal the election.
Looking ahead, he said he doesn't know what the next election might bring, but he is worried that if former President Donald Trump runs again in 2024, he will try to "whip up a civil war amongst his followers using lies and deceit."
Of course he would, as that's been the plan all along. It doesn't take a genius to figure out that all these rats deserting the sinking SS Trump ship would have done anything to keep Trump in power. Now its over and the crying has just begun, with most of the rats jumping overboard claiming they were afraid of their gang leadership, didn't really know what they were doing, got caught up in the moment and mommy didn't love them enough etc, etc, etc, as the reason they committed sedition for Trump. Trust me, if this had gone their way they would be killing liberals in the streets and hanging people by their ears or nailing people to the crosses they built.
I feel no pity for these fools, and as far as I am concerned take em out back and be done with their seditious asses. But that's just me and my opinion, which doesn't count for much since every asshole out there has an opinion too.
"What else is he going to do if he gets elected again? All bets are off at that point," he added, saying that he is worried about the world his daughters and granddaughter will inherit if people are not held accountable.
BULLSHIT. This gang tattooed individual was just as responsible for what happened as those who led it. These guys knew what they were doing and were all on board until they lost their asses over it. Then it's all about finding Jesus and getting right with the country and the lord. Well you know what they say about the Jesus: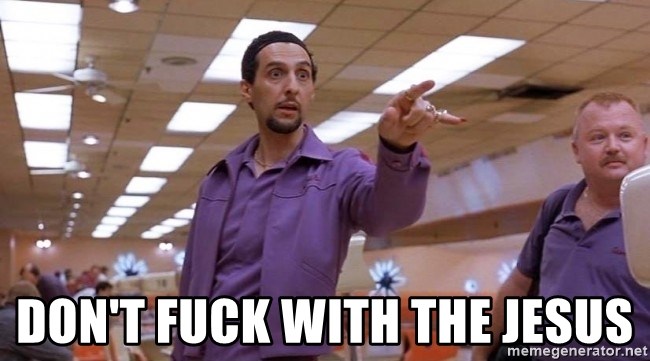 And if you don't want to do that then don't get all seditious and get an insurrection going and then cry about it when you lose it.
Source: https://edition.cnn.com/politics/live-news/january-6-hearings-july-12/index.html